An Arts and Crafts couch with an Asian coffee table and a contemporary media cabinet all live happily together with similar materials and design elements.
Across the room is a prairie recliner and foot stool also sharing space happily with an Arts and Crafts love seat and Asian styled side table.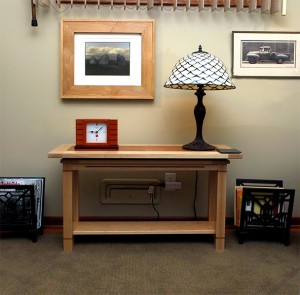 This side table was designed after a trip to the Pacific Northwest where Asian influences abound in design. I've loved these tables from the first time I made them and they have been made several times.

I've made these tables several times now, and just love them more and more each time.
The veneer supplier listed something as "rustic figure" and I took a chance. Today this is my favorite center panel build for these little guys.
This ribboned cherry is fairly unusual, but I do like the way it works with the pronounced grain pattern in this four-way book-matched top.